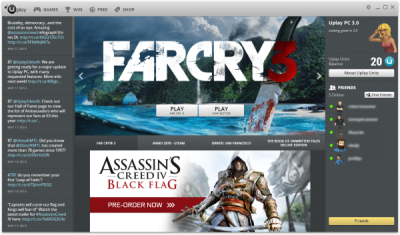 Most significant new feature is , Add Game Key and download direct just like STEAM
The Uplay PC interface has undergone a global revamp, with darker tones and a stronger focus on all the information you need.
The individual game pages now also shows all additional content available for your games, while the Win page has been entirely overhauled.

Easier activation of games
Probably your most requested feature! It is now possible to activate a game directly in the Uplay PC client simply by entering the CD key from the cog icon drop-down menu in the menu bar and download them within the client.
Of course, all games bought in the Uplay shop will still be automatically added to your game library.
Select the destination folder for downloads
From the Settings window, you can now select the folder you wish to use to download your game installation files, as well as easily delete all installation files if they are not needed anymore.
You can of course still download all your games again at any time and from any computer.
New download list
All your active downloads are now added to a single download list available from the menu bar, so you can keep track of the download progress more easily.
The team is also currently working on a brand new download manager for a future update of the game client.
A unified library
Ubisoft Uplay games bought on Steam are now displayed in the Games library alongside all your other Uplay games, and can be launched directly from there.
All your games are now in one place!
Smoother launch of all Uplay games
When launching a Uplay game from a third party PC client such as Steam, the game will now directly start within Uplay PC. If your account is set to auto-login, no extra action is needed on your side before you can play and you can get straight into your game.
The four latest games you've played are also directly available from the Uplay PC homepage for quick access.